After it all, the events of the holidays,
the dinner tables passing like great ships,
everybody made soups for a while.
Cooked and cooked until the broth kept
the story of the onion, the weeping meat.
It was over, the year was spent, the new one
had yet to make its demands on us,
each day lay in the dark like a folded letter.
Then out of it all we made one final thing
out of the bounty that had not always filled us,
out of the ruined cathedral carcass of the turkey,
the limp celery chopped back into plenty,
the fish head, the spine. Out of the rejected,
the passed over, never the object of love.
It was as if all the pageantry had been for this:
the quiet after, the simmered light,
the soothing shapes our mouths made as we tasted.
"Everybody Made Soups" by Lisa Coffman from
Less Obvious Gods
. © Iris Press, 2013.
___________________________________
When you can't fish as often, you can cook more. If you didn't make soup out of your holiday turkey, it would be worth roasting up another one just to be able have a hot bowl of this waiting for you when you come in from the cold.
Use this recipe, or call up your Grandma and get hers.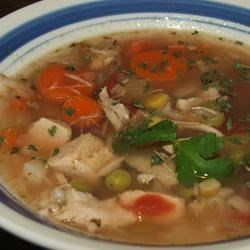 "A great way to not waste a single bite of turkey. This is a delicious soup and one of my favorites. If you want to freeze some, leave out the potatoes."
Ingredients
1 turkey carcass
4 quarts water
6 small potatoes, diced
4 large carrots, diced
2 stalks celery, diced
1 large onion, diced
1 1/2 cups shredded cabbage
1 (28 ounce) can whole peeled tomatoes, chopped
1/2 cup uncooked barley
1 tablespoon Worcestershire sauce
1 1/2 teaspoons salt
1 teaspoon dried parsley
1 teaspoon dried basil
1 bay leaf
1/4 teaspoon freshly cracked black pepper
1/4 teaspoon paprika
1/4 teaspoon poultry seasoning
1 pinch dried thyme
Directions
Place the turkey carcass into a large soup pot or stock pot and pour in the water; bring to a boil, reduce heat to a simmer, and cook the turkey frame until the remaining meat falls off the bones, about 1 hour. Remove the turkey carcass and remove and chop any remaining turkey meat. Chop the meat.
Strain the broth through a fine mesh strainer into a clean soup pot. Add the chopped turkey to the strained broth; bring the to a boil, reduce heat, and stir in the potatoes, carrots, celery, onion, cabbage, tomatoes, barley, Worcestershire sauce, salt, parsley, basil, bay leaf, black pepper, paprika, poultry seasoning, and thyme. Simmer until the vegetables are tender, about 1 more hour. Remove bay leaf before serving.
ALL RIGHTS RESERVED © 2016 Allrecipes.com
Printed From Allrecipes.com 1/20/2016