I'm enjoying March Madness, as usual. It seems that wherever I happen to be living my loyalties gravitate to a local team. Years ago I was in Iowa when the Iowa Hawkeyes, coached by Lute Olsen, went all the way to the Final Four. And after years in the Midwest I still tend to favor Big Ten teams.
This year, though, I'm following Gonzaga with lots of interest. They're a small school in Spokane that happens to have an exceptional basketball program. This year's team is touted as the deepest and most talented of recent years. They beat Iowa to make it into the Sweet Sixteen. Friday evening they go up against UCLA with a berth in the Elite Eight on the line.
The reason for Gonzaga's basketball success is head coach Mark Few.
He was born and raised in Oregon, graduated from the University of Oregon in 1987 and joined the coaching staff at Gonzaga in 1989. He was an assistant coach until 1999 when he took over the top position.
In his sixteen years as head coach
Gonzaga has a 435 - 102 record, a .810 winning percentage.
That makes Few the winningest active coach in the NCAA. Gonzaga has won the West Coast Conference regular season all but one of the years Few has been head coach, and has won the WCC tournament all but three of those years.
This year marks the 17th straight year
Gonzaga has made it into the Big Dance.
But Few has never been able to lead his team beyond the Sweet Sixteen. Will this be the year? I'll be watching.
There's another thing I like about Mark Few. He's an avid fly fisherman. The consensus is that he will never leave Gonzaga. Some attribute that to loyalty, or to his northwest roots. I think it's because of the great fly fishing out here. He's particularly partial to Alaskan Rainbows.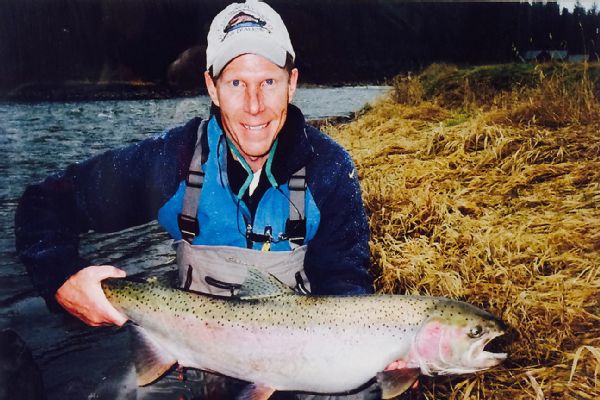 Whatever happens in the tournament,
you can be sure that once it's over
it won't be long before he'll be out on the water getting his head straight again. (Me, too.)
Here's the money quote from an
ESPN article on Few and fly fishing:
Fly-fishing, believe it or not, helps Few find harmony within the hustle.
"It just brings it down," Few said. "I walk out the next day at practice in a much better place. Even come home in a much better place. My wife will tell you, [I'm] a much better parent, a much better husband. Everything. These seasons and the job can become all-encompassing sometimes. And so it's good. It's a great time to think and think about your team and plan and do things in that area because you have a lot of time just standing there in the river. I think [fly-fishing] is probably the biggest thing that I've always tried to do."