Most of you out there-by the very virtue of receiving this newsletter-support wild steelhead conservation. And not just a little. You understand the fishing gospel, so to speak; the part that says, "Take care of the fish and the fishing will take care of itself." You're the converted. The chosen ones who will lead steelheaders forward into better waters.
But what about all the other steelhead anglers out there?
As it turns out they support conservation too.
How do we know? Well, simple. We asked.
This summer, Trout Unlimited, with the help of Southwick and Associates, a well regarded, non-partisan public opinion research firm that specializes in natural resources issues, conducted a poll that, to our knowledge, has never been conducted before. The poll surveyed more than 600 active steelhead anglers in Washington, Oregon and California regarding fishing preferences and opinions on steelhead management.
A solid majority of anglers (62 percent) favor a balanced approach to managing steelhead with some rivers for wild steelhead and other rivers for hatchery fish.
When wild populations are low, a strong majority (68 percent) of anglers support releasing any wild fish caught versus just 24 percent of anglers who would prefer to keep wild fish they caught.
In order to protect wild steelhead, more anglers (55 percent) chose longer seasons with more restrictions on fishing gear and methods than shorter seasons with fewer gear/method restrictions (32 percent).
58 percent of anglers support closing a hatchery that provides harvest opportunity if that hatchery harms wild steelhead and jeopardizes a catch-and-release fishery for wild fish. Given these conditions, only 27 percent of anglers supported keeping the hatchery in operation.
The numbers tell the story. We as steelhead anglers have great value for wild steelhead, their conservation and the opportunity to fish for them. Now it's time to get down to the hard work of restoring them.
Two things you can do for steelhead right now:
Help us celebrate our birthday! Wild Steelheaders United launched one year ago this week, and it's been a crazy and rewarding ride. Help us double our ranks of dedicated steelheaders by getting one friend to

sign the credo

. Just one. And if you have more than one friend, get them to sign the credo too. Let's make 2016 the Year of the Steelhead.

Help a steelhead. Buy a hat. If you haven't ordered your very own Wild Steelheaders United hat, now is the time (Christmas presents anyone?). A portion of all sales go directly back to WSU.
WSU Welcomes Nick Chambers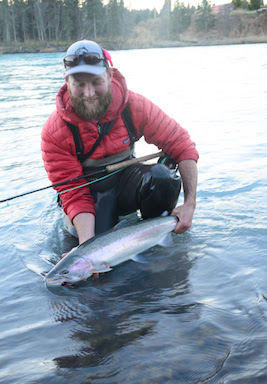 I would like to introduce myself to all of you as the newest staff member of Trout Unlimited's Wild Steelhead Initiative. I hail from a small town in Southwest Oregon and am a third generation Pacific Northwest angler and hunter. My first steelhead encounter came on my childhood home waters of the Rogue River. The experience changed my life forever and I have since dedicated myself to pursuing
steelhead and learning their habits and biology.
I have been fortunate enough to fish for steelhead throughout their native range from California to Alaska and I continue to be a student of these fish.
I hold a fisheries degree from Oregon State University and have worked for a variety of agencies and organizations in fisheries research and management and
guided in Oregon and Alaska. I have also been an active member of TU and helped to organize and participate in a number of angler science events. As the Washington based organizer I will be working with staff and our awesome volunteers to continue the work that has begun over the past year and help to expand the reach of the Wild Steelheaders United. I look forward to meeting and working with many o
f you.
changes
. More than 3,000 comments were submitted on the proposal that, among other things, would eliminate wild steelhead harvest and ban bait fishing during the period when most wild steelhead return to the OP. Rob Masonis and John McMillan testified on behalf of TU and Wild Steelheaders United. Many of you played a vital role in generating comments and being present to testify. An overwhelming majority of written and oral comments supported the changes. The Commission will meet again in December to come to a decision.
On the other side of the state, Washington's Western Water and Habitat staff has been working to keep water in important steelhead tributaries. After dangerous drought conditions in the Yakima River Basin, key tributaries and their steelhead entered the fall season in a precarious position. Many tributaries dried completely
as temperatures soared, base flows dropped, and irrigators used what little creek water existed to keep crops alive. To help save steelhead and the creeks, Trout Unlimited leased 2.5 cfs of irrigation water for instream flows while the Kittitas Reclamation District wheeled downstream water rights through its canal system
and spilled the water at canal-tributary intersections. KRD supplemented creeks to mimic natural summer flows by as much as 15 cfs depending on stream size. This work by KRD, TU and Washington Department of Ecology was enough to keep seven streams alive and give steelhead a fighting chance during a critical drought year.
Juvenile and adult steelhead will soon get access to more spawning and rearing habitatin Idaho's upper Salmon River basin. TU, in coordination with the Upper Salmon Basin Watershed Program, has begun to move irrigation diversions on important steelhead tributaries of the Lemhi River to points downstream. Water will be pumped to irrigators' fields from those downstream points where there is more water, which will keep enough water in the upper tributaries so that steelhead can use them.
This month Oregon's Board of Forestry announced it would increase no-logging buffers from 20 feet to 80 feet on medium streams and 60 feet on small streams - a huge victory for steelhead.
While TU and WSU were not the only players in the fight to increase buffers, the work many of you did to reach out to the board and voice your support for healthier riparian areas made the difference. Thanks to you, more than 14,000 miles of Oregon streams will enjoy cooler water conditions when they need it the most, giving fish the necessary shade and shelter they need in the height of summer.
Also in Oregon, steelhead will face one less barrier as they migrate up the 120 miles of​big water on the Nehalem River. This year the Upper Nehalem Watershed Council, with the help of the TU and the Orvis 1,000 Miles Campaign, replaced a barrier culvert with a full span arch culvert on Oak Ranch Creek in the upper Nehalem. This is just Phase 1 of a two-phased project to restore more the 6 miles of spawning habitat.
Learn More
.
Also in California, Wild Steelheaders United hosted two
Steelhead Science for Anglers
events at the Aquarium of the Pacific in Long Beach and at the Veterans Center in Davis. These educational workshops brought together steelhead researchers, advocates, and anglers to discuss the latest science on
O. mykiss
.
A new blog series has been launched highlighting the people and fish of select watersheds in Southeast Alaska's Tongass National Forest, where TU has proposed permanently protecting 77 key watersheds. In addition to possessing excellent steelhead fishing these watersheds are home to all five species of salmon, cutthroat and char. The most recent post
features' TU's Mark Hieronymus
and his experiences in Sitka, home to 14 of these key watersheds.
Send your comments
to the Forest Service and let them know that conserving these 77 key watersheds is important to steelhead anglers.